There are plenty of factors behind every single purchase: age, gender, social status, employment, etc. In this post, we'll focus mostly on consumers of four different generations: Baby Boomers, X-Gen, Millennials, and Z-Gen. The essential thing to note, however, is that all evidence points to the same: omnichannel retail is the way to go. And currently, the three main channels are Amazon, branded websites and brick-and-mortar.
Each of these four generations behaves in a particular way when it comes to buying. For example, younger generations favor online retail, considering different factors. Boomers are far more likely to do their shopping at physical stores, trusting the feel of items above other considerations.
Let's delve deeper into the proper way to sell to each of these generations, considering their psychology.
Why Do Customers Shop at Branded Websites?
Across all four main U.S. generations, the top three reasons are the convenience, price and free shipping. Reasons following are brand reputation and loyalty rewards.
Generation Z has always relied on speed when it comes to their shopping. Because of this, they're more demanding when it comes to having a convenient and personalized online shopping experience. They're also less likely to believe in brand promises, and it's difficult to "convert" them to loyal customers. To market to Gen Z, it's essential to recognize their individuality when marketing and creating an online shopping experience.
Millennials, on the other hand, have grown accustomed to personalized online service, and it isn't innate to them.
Why Do Customers Shop at Amazon?
Across U.S. generations, the top reasons to shop at Amazon are convenience and price. Easy shipping was the third most cited reason, but it was two times less important than comfort and price.
Younger generations (Millennials and Gen Z) tend to shop at Amazon only during Prime Day.
Millennials and Gen Z are also more likely to review and shop on mobile instead of using the desktop site.
Related: Amazon Seeks A Lasting Edge Over Competitors By Going Private
Why Do Customers Shop at Physical Stores?
The ability to physically feel or try on a product is every generation's no. 1 reason to shop in-store.
Physically feel or try on a product is most important to Baby Boomers, who cite this reason nearly twice as much as Generation Z.
For Millennials and Z-Gens, the price is an influential factor when choosing brick-and-mortar.
For every generation except Boomers, speed and convenience are also important reasons for shopping in-store.
Online retail is an unstoppable and growing trend, but it's not equal to the death of brick-and-mortar. Across generations, Americans are currently split 50/50 on whether they prefer online or physical retail. Older generations, particularly Boomers and Seniors, certainly prefer brick-and-mortar. Younger generations, however, still head to actual stores for specific things.
Related: Online Shopping Vs. Offline Shopping. Trends and Future Development Predictions
The Issues with Online Shopping
The biggest challenge of online retail is the customer's inability to try an item before purchase. Other pet peeves across generations include having to share shipping and payment information with online retailers. A pleasant shopping experience altogether is also a factor.
However, the priorities for these annoyances vary across generations.
Millennials, Generation X and Baby Boomers, believe not being able to touch or try a product is the most significant inconvenience in online shopping.
Generation Z values speed above all. Products that take too long to ship are their number one pet peeve. After speed, they also value low shipping costs. They're interested in a pleasant and quick shopping experience.
Boomers are more likely to use online channels to research for products, opting to buy them at the physical store.
One thing Generation Z and Boomers have in common is security concerns. This is a top-of-mind issue for both generations.
Currently, the market is comprised of Boomers, Generation X, Millennials and Generation Z – as such, omnichannel retail becomes essential as a way to reach all of them equally.
Related: New to eCommerce? These 6 Tips Will Make Your Brand Look Trustworthy!
Payment Options
Across generations, credit cards are still the number one payment method for online shopping. However, more and more, Millennials and Generation Z are embracing alternative payment methods.
Millennials and Z-Gens are twice as likely to use mobile wallets like Venmo or Square Cash.
As a retailer, if you're targeting younger customers, you should make an effort to accept new payment methods.
Generally speaking, the two youngest generations are more likely to embrace new ways to interact with brands.
Millennials and Gen Z are more likely to engage with a new brand through social media. This way of getting to know new companies isn't new to them, and they don't find it unsafe.
One-on-one transactions with new brands don't convince Boomers and Generation X. It's not a process that feels natural or secure for them. They'd rather have a middleman when purchasing from an unknown brand, like Etsy or eBay.
Online Financing Boom
Financing options for online shopping are gaining traction among the youngest customers. Companies like Klarna, AfterPay and PayPal Credit leading the charge.
Generation Z, in their early 20s or late teens, is increasingly ready to use financing.
Boomers are the generation with the least desire to use online financing. They are, however, also more likely to avoid making certain online purchases altogether if they didn't have financing options. This indicates a higher price point.
Gen Z and Millennials are more likely to pay more for an item if there's an option of financing.
Millennials are the generation most interested in bargains — the best way to gain them as clients are through promos.
Online Returns Policy
The fact that younger generations lean more towards online shopping also means they're more likely to return purchased items. Gen Z is most likely to expect to return the things they buy online, followed by Millennials. Generation X and Boomers hope to return less than half of their online purchases. Once again, the need for omnichannel retail becomes apparent.
For the two youngest generations, the purchase process doesn't end after buying. They require quick and easy-to-follow returns policies.
Generation Z and Millennials are bargain hunters. Both generations will easily return an item if it's cheaper elsewhere.
Gen X and Millennials are more likely to return an item if it arrived too late and then had to buy something else at a physical store.
Generation Z is more likely to order multiple items with the intention of returning some of them.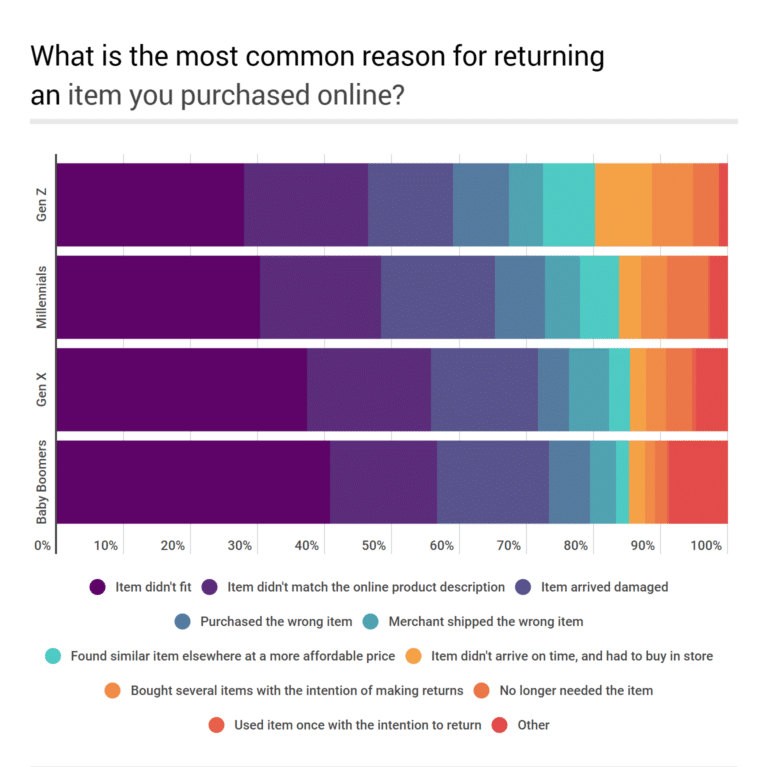 In-Store Returns Policy
While most returns of online purchases happen through the mail, some sellers will offer the possibility of doing so directly at their brick-and-mortar locations. This growingly popular trend also exists for Amazon, as you can drop items off at their various locations.
Generation Z is most likely to expect to return an item at a physical drop-off location.
Many shoppers across generations expect to purchase at the brick-and-mortar store when returning an item in person.
Data Collection Across Generations
There's a pretty big difference in different generations view data collection. While most shoppers across generations dislike data collection, younger people are more likely to exchange information for perks.
Baby Boomers say that there aren't any brand offers that would make them share more data.
Millennials are most willing to trade off their data for a more personalized online shopping experience.
Generation X is most likely to hand out data for VIP benefits.
Generation Z is less likely to share data for perks than Millennials. However, they might share info for more personalization or early access to products.
Your Omnichannel Retail Strategy
Create a strategy based on the information above. A few ways to improve your omnichannel retail strategy:
Gather data. This also includes tracking conversions and sending targeted messages.
Make your customers' experience your no. 1 priority.
Automate as much as you can without compromising experience.
Contemplate different devices. Your customers are entering platforms from various devices. Work this in your favor and have a strategy for each one.
Allocate the resources.
Use any piece of technology that can prove helpful.
Deliver on what you've promised your new customer.
Gather Data
What industry experts say:
Use UTMs for landing page links of acquisition ads.
Optimize for mobile.
Obtain your visitors' emails.
Use data on every stage of your marketing strategy.
Use data to feel trends, not expecting perfect accuracy.
Map out customer personas from the data in your hands.
Consider how each part of your omnichannel strategy can work to your benefit. Don't use the same tactics and goals everywhere!
Never stop testing new ways towards success.
Look at what your competitors are doing on each channel to get an idea of how to manage your own.
Make your customers experience your no. 1 priority
What industry experts say:
Think like a consumer and not a brand. What do you and your team love when online shopping? What sets brands apart for you on different channels?
Connect to your customers on an emotional level at each stage. This will allow you to get to know their desires and needs.
Get in touch with your customers. Organize focus groups, encourage feedback, and generally reach out to the people buying from you.
Focus on what your customers need and their journey. From there, creating an integrated customer experience to fulfill those needs.
Create content for all stages of the customer journey, as one-size often doesn't fit all.
Offer multiple choices across all channels. Customers, particularly younger ones, expect to find you everywhere, offering the same level of engagement.
Personalize offers to customers' needs. Use the data you've collected to segmentalize your customers and provide the best possible experience for them.
Make your site easy to navigate to customers who don't know what they want. You need to be prepared for whatever phase of the customer journey your visitors are undergoing. Have enticing visuals on your site and easy access to search, filters and buy buttons.
Follow your visual style across channels. Create a brand look and feel and stick to it. This ensures that your customers sense that every channel comes from the same place.
Have a coherent omnichannel retail experience that aligns with the brand's philosophy.
Be personal. Small brands have a significant advantage over large ones: it's easier for them to seem approachable. They're also more malleable and can adjust easier. Still, for larger brands, having people in charge of responding to customers is a way to stay attainable.
Keep control of your branding.
Automate as Much as You Can
What industry experts say:
Automate as much as possible. It's a lot of work to keep on top of every channel you're working with, and it can take a toll on your sanity.
Delegate whenever automation isn't an option. Unless it's something only you can do, you can benefit from having a trusted team member handling it.
Integrate across channels. Your different channels should be communicating with each other, so there aren't any stock mistakes. It's also a way to keep consistency across the brand.
Establish a workflow on each channel for seamless work.
Contemplate Different Devices
What industry experts say:
Identify what your customers are doing and from where they're doing it.
Optimize for each possible device.
Work offline as well as online. Remember many customers like to review a product online and then purchase it after seeing it in person at a brick-and-mortar location. You can even experiment with pop-up stores or other in-person experiences.
Keep your social media active and approachable.
Generally speaking, think beyond the "buy" button. The customer journey is a long one, and your goal should be to ease every stage. Remember that there's life even beyond your customer's purchase. The ride ends when your customer is happy with the product. Take every aspect into consideration, from a satisfying online experience to packaging that reflects your brand. Omnichannel retail is the way to the future!
Bright Vessel specializes in building, managing, promoting and educating our clients for online success. Our years of experience and commitment to giving personalized service make us the perfect choice for your brand. Visit our website to find out more about our services and portfolio!
https://www.brightvessel.com/wp-content/uploads/2018/12/omini-channel-ecommerce-stats-sm.jpg
985
1500
judd
https://www.brightvessel.com/wp-content/uploads/2018/10/logo-bv-300x156.png
judd
2018-12-14 05:55:34
2019-03-20 11:44:47
Our Guide to Omnichannel Retail & The Reasoning Behind Shopping