The year 2019 have just started, and it looks it will be an exciting one! It is projected to be a busy year in connection with the marketing and new trends which are considered revolutionary.
Here you will find a list of 10 crucial marketing questions that will help you determine whether you are in the right path (and, really, whose plan doesn't have at least some room for improvement, right? If you're serious about getting and staying ahead of your industry or niche's curve this year, keep reading this article.
10 Crucial Marketing Questions
1 – Are We Putting Mobile Users First?
Among all relevant marketing trends for 2019, this one outranks all the rest.
Smartphones and other small screens are quickly taking over the marketers in advanced. People are spending more time with their phones and less with desktops and laptops, that's a fact! In some parts of the world, the latter is rarely used nowadays. That means that you need to think primarily how to take advantage of phones in the marketing business in 2019.
You should develop unique goals and objectives, smart design strategies, and active monitoring of all relevant metrics. Look at mobile as a separate entity – one that deserves special and immediate attention.
Also, bare in mind that people interact differently with websites on mobile devices than they do on larger screens. It is important to remember this about your buyer if you want to be successful while providing an excellent service.
2 – How Are We Prioritizing  Mobiles?
Mobiles must become central to all your processes; your content development, your corporate goals, all of your creative ideas must be developed with mobiles in mind first. It's time to audit those concepts that are related to the mobile environment and glean as much insight from your findings as possible, especially about customer behavior.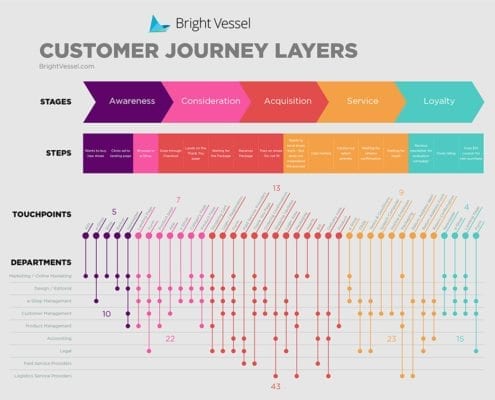 3 – Are We Addressing Every Step of the Buyer's Journey Through Content?
The buyer's journey as a concept has evolved quite a bit since the advent of mobiles. Today, straightforward consumer products might require just a few seconds of video to convey a solid marketing message. More technical concepts are likely to take considerably longer.
Your advertising efforts have to be fortified with content that is both informative and engaging if you want to help your buyers make decisions that meet their unique goals. You might access buyers at both fields the "I'm ready to buy" and "I need more info…" requirements. Ask yourself:
Do I understand how the Buyer's Journey works?
Am I monitoring how customers are interacting with my brand?
What am I doing to maximize conversions based on those observations?
Do I have content already in place to meet buyers at every stage of their journey?
How can I gather reliable data on these points?
Once you have those answers, you can start developing useful, engaging content that ensures your buyer stays focused on your brand through every part of the journey.
4 – How Does Our Media React To Customer Behaviors in Real Time?
Consumers have never been as demanding as they are today. If your brand doesn't deliver what they want instantly, they will find one that does. This is why you should be quick enough to provide what your customer wants and needs in real time.
For some brands, that means round-the-clock accessibility via chatbots of support pages on social channels to resolve customer problems and answer questions. It could also mean having all the right content in place to field those issues before the customer brings them up.
Real-time feedback applies to advertising too. "Moment Marketing," for example, capitalizes on current events, social media trends, or similar online happenings with creative real-time marketing.
Here is an example: https://hellotars.com/
5 – Are We Using Online Video to Our Advantage?
Video storytelling must be a part of your content strategy in 2019 as more people stream their favorite shows online. Have you thought about what you are doing as a responsible marketer as regards social media?
Video content in online media is multiplying. It increases engagement in both advertising and content. This makes it one of the most – if not the most important of current digital marketing trends. If your brand is already spending money on traditional TV ads, adding online advertising is a proven way to improve ROI on ad spend.
6 – How Are We Leveraging Native Video?
Few marketers are currently putting enough weight on the native video, but platforms like Facebook are forcing a change in that arena.
Getting good at creating engaging live content starting right now will position you as an industry leader. It will give you a level of exposure that goes far beyond paid, promoted or boosted content. Instagram also highlights live video, and it's just a matter of time before users' native videos start seeing them in equal time.
7 – How Are We Personalizing Brand Engagement?
How are you going about delivering a genuinely customer-centric experience with your brand? Are you observing customer behavior adequately? Are you learning everything you can about your customers and prospects? Do you understand who your ideal customer is? How much do you know about them?
If you build around those marketing questions, you will see a considerable increase in the impact of your marketing efforts.
We created a marketing map which is a great way to outline what your currently doing with your marketing and how it can relate to other unexplored areas of advancement.
See the Marketing Map: https://www.brightvessel.com/digital-marketing-map-2018/
8 – What are We Doing to Make Your Content More Interactive?
Interactive content allows readers to choose different paths as they engage.
Power Posts, for example, steer readers toward sections that match their interests. It allows them to skip parts that are less relevant, dodging the possibility of lost interest when scrolling or skimming. Power Posts also employ interactives like checkboxes to tick off accomplished tasks, as well as videos to support the key message in a particular section.
The more action required by the reader, the more involved they become with the content, so the bond between themselves and your brand becomes stronger.
Quizzes are another way to make your content more interactive. This is an especially effective strategy in B2B content sharing since it facilitates the gathering of vital information about potential partners.
9 – How Are We Incorporating Online PR and Influencer Marketing?
As stated, there are now more eyes on more small screens than there have ever been and that has been a steadily upward trend for years now. The evolving trends incorporating online media consumption has helped to star out of all kinds of content creators.
It is time to start engaging all of the relevant audiences of online influencers, particularly those consistent with social media interaction. This will help you gain more exposure and more attention to your brand.
10 – What Are Your Specific Goals?
What goals do you have in place right now for 2019? Are they specific, measurable, relevant, and attainable? What new ground do you plan to cover?
Digital marketing is a rapidly-evolving concept. What worked six months ago may or may not still be relevant today. The key to success is staying ahead of emerging trends and learn from past experiences.
At Bright Vessel, we understand how important having an active content plan is to your business. Contact us today to discuss your goals, and learn more about how a stable, future-focused content marketing strategy can benefit your business. Read more about our Digital Marketing services.
https://www.brightvessel.com/wp-content/uploads/2018/03/Marketing-Questions-2018-e1522578042319.jpg
450
600
judd
https://www.brightvessel.com/wp-content/uploads/2018/10/logo-bv-300x156.png
judd
2018-03-30 13:47:05
2019-10-09 10:06:43
10 Key Digital Marketing Questions to Ask in 2019